Around The World Flight 39, Kathmandu to Dhaka
We travel parallel to the Himalayas, affording wonderful views of some of the finest vistas in the world before our course brings us to Dhaka, the capital of Bangladesh.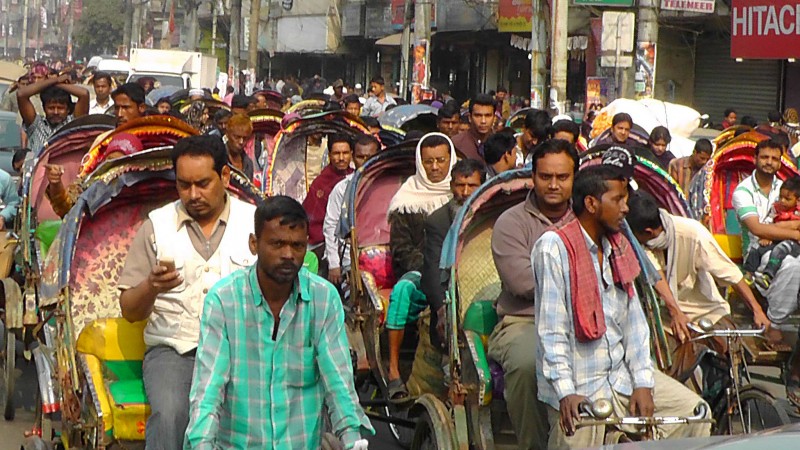 Dhaka is the capital and the largest city of Bangladesh. It is located in central Bangladesh along the Buriganga River. It is one of the most densely populated cities in the world. The Greater Dhaka Area has a population of over 18 million as of 2016, while the city itself has a population estimated at 8.5 million. With hundreds of thousands of cycle-rickshaws running on its streets every day, the city is described as the Rickshaw Capital of the World. Sadly, this massive metropolis is fighting a battle against overcrowding, urban decay as well as pollution, a far cry from the unspoiled peaks that predominate in the Himalayas.
Hazrat Shahjalal International Airport (IATA: DAC, ICAO: VGHS formerly VGZR) is the largest and most prominent international airport in Bangladesh. It is located in Kurmitola, 17 kilometers (11 mi) from the city center, in the northern part of the capital city Dhaka. Part of it is Bangladesh Air Force Base Bangabandhu. International Airport and later as Zia International Airport, before being named in honor of Shah Jalal, who is one of the most respected Sufi saints of Bangladesh. (Source: Wikipedia)
Flight Information
Photo Gallery Microsoft Flight Simulator 2020
Around The World – Leg 39
Distance: 15314 nm, 28362 km
List of all legs
Around The World in 80 Flights
Next flight: Dhaka to Namsang, stay tuned!
Inspired by: First Class Simulations