Around The World Flight 46, Singapore to Jakarta
We fly over dense rainforest and cross the equator as our journey reaches the Indonesian capital of Jakarta.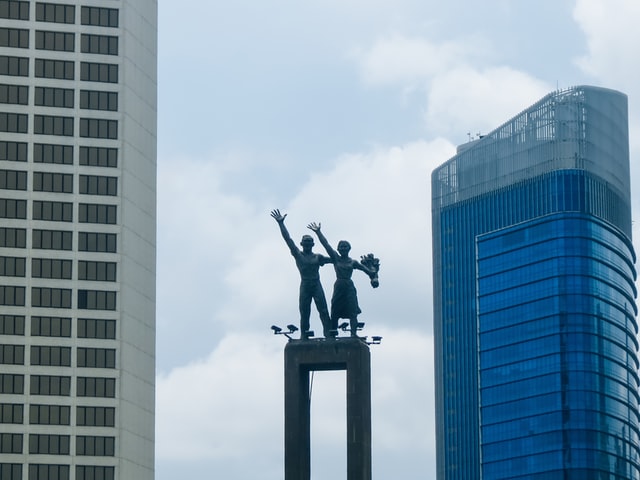 The most obvious impression of Jakarta to the visitor is the stifling equatorial heat. Be aware that the heat, here at the equator has a significant impact on aircraft performance. Expect some turbulence on the final approach. Also, expect an extended take‐off roll as the aircraft struggles to gain lift in the hot thin air.
Jakarta officially the Special Capital Region of Jakarta is the capital of Indonesia. It lies on the northwest coast of Java (the world's most populous island). Jakarta is the center of the economy, culture, and politics of Indonesia. It has a province-level status which had a population of 10,562,088 as of 2020. (source: Wikipedia)
Soekarno–Hatta International Airport (IATA: CGK, ICAO: WIII), abbreviated SHIA or Soetta, formerly legally called Jakarta Cengkareng Airport, is the primary airport serving the Jakarta metropolitan area on the island of Java in Indonesia. Named after the first president and vice-president of Indonesia, Sukarno and Mohammad Hatta, the airport is located at Benda, Tangerang and Cengkareng, West Jakarta, which is about 20 km northwest of Central Jakarta. Together with Halim Perdanakusuma International Airport, they served over 80 million passengers in 2019. (source: Wikipedia)
Flight Information
Photo Gallery Microsoft Flight Simulator 2020
Around The World – Leg 46
Distance: 17943 nm, 33231 km
List of all legs
Around The World in 80 Flights
Next flight: Jakarta to Bali >>>
Inspired by: First Class Simulations