Around The World Flight 23, Mombassa to Nairobi
Enjoying the wildlife as our journey progresses from Mombassa across the African plain to Nairobi in Kenya.
Another flight over Africa takes us over Kenyan National Park to Nairobi, which is the capital city and largest city of Kenya. It is famous for having the Nairobi National Park, the world's only game reserve found within a major city. An international airport in Nairobi is Jomo Kenyatta International Airport (IATA: NBO, ICAO: HKJK). The airport is named after Jomo Kenyatta, Kenya's first president and prime minister (wikipedia).
Flight Information

HKMO-HKJK (IFR)

Departure

Mombassa (HKMO)

Destination

Nairobi (HKJK)



Aircraft

Bombardier CRJ-200

Cruising altitude

FL110, 11000ft, 3352m

Date & Time

May 15, 2016 15:00 Zulu

Waypoints &

Distance

HKMO MOV GITNO UTATA HKJK

(237.7nm, 434.6km ) TAS: 300Kts, Time: 0:46

Flight Plan & 

Scenery Tiles

FP_HKMO-HKJK (PlanG)
FP_HKMO-HKJK (PDF) Scenery: X-Plane default
Photo Gallery
 Around The World, journey progress, leg 23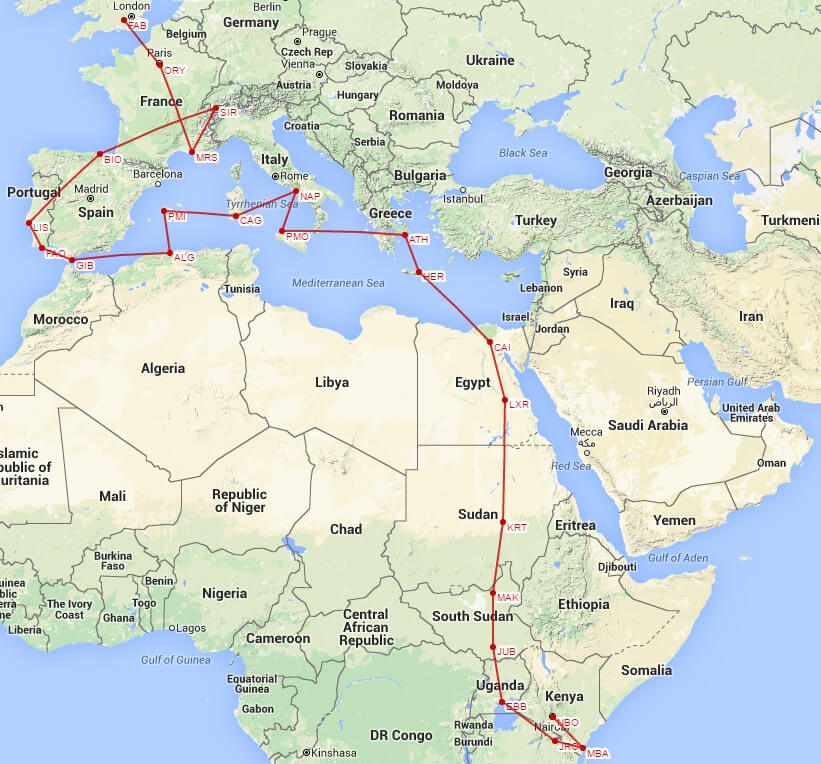 The list of all flights:
Inspired by: First Class Simulations
By continuing to use the site, you agree to the use of cookies. more information
The cookie settings on this website are set to "allow cookies" to give you the best browsing experience possible. If you continue to use this website without changing your cookie settings or you click "Accept" below then you are consenting to this.