How To Build an FPV Drone – Beginners Guide
Building a quadcopter is relatively easy nowadays. Components required to build a decent quadcopter, equipped with a first person view camera (FPV), are broadly available for purchase. The average time for a hobbyist to build a "qwad"  is less than an hour! Well, let's build a multipurpose quadcopter capable of flying freestyle, racing, and recording HD videos at the same time!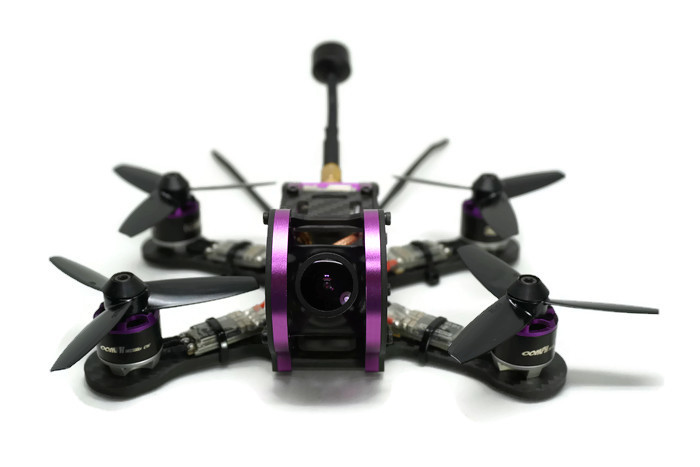 Even though it appears to be difficult, trust me it isn't. Once you created your first qwad, you won't have any problems with building even more advanced configurations. It is very easy to learn how to put all the things together and take your bird in the air. This post is about to provide basic information on haw to get started with the hobby,  short buying guide of "ready to fly" quads and finally some generic information about building the quadcopter equipped with FPV & HD recording camera.
Let's roll…
Where to buy "ready to fly" quadcopters and parts?
There are plenty of manufacturers out there supplying parts. The list is huge, just take a link at this post on Reddit. It is very difficult for beginners to decide where to go. So many options and big price ranges makes it really tricky. The higher price tag doesn't mean the better component. They say "there is no perfect build" and they are right, it's almost impossible to buy a drone which will suit your requirements in 100%. That's why you should build it yourself! There will be always something which you would like to modify according to your requirements, your flying style, the purpose of your qwad and simply to try something new. Folks on YouTube are publishing tons of videos, reviewing most popular parts and quadcopters, just go and watch some popular channels. A good starting channel is UAVfutures, just go there and let YT guide you.
It is worth to mention that technology is evolving so fast, that each quarter we observe new components popping up on the market. Better quality, smaller, lighter, smarter and easier to assemble. Whatever was commonly in use 1-2 years ago, it is no longer in use today.
From which manufacturer to buy at the beginning?
It is really up to you! Most of the experienced pilots keep on suggesting the most popular brands. They will discourage you from buying "cheap stuff" especially from Chinese suppliers. And they are right! As a matter of fact, when buying from China we support development of relatively cheap and lower quality components – which is bad to our hobby. Those parts are most of the time poor copies of the higher quality and more expensive components. Cheap also comes with a penalty to quality, durability and functionality of particular components e.g. bad solder joins, damaged or faulty boards, low quality motors, less sufficient power peak handling.
On the other hand consider this: as a beginner you will be crashing, fixing  and rebuilding your quads very often, and until the moment you will find your sweet spot and develop your perfect configuration, you would have to spend lots of money and invest some of your spare time. My suggestion is to start small and grow. Do not let the advertisers fool you. I know that fancy stuff is cool to have but what would you prefer, crashing 2-3 times in a row a motor or a flight controller or a carbon frame for 25$ or for 50$ each? The choice is yours. Know that once you get more experience and knowledge, you will be able to select the right components in the right price range and build your perfect qwad. You could get started with the following suppliers: Banggood, Gearbest or Hobbyking and look at the brands like KingKong, Eachine, RealAcc, DYS, Emax, RunCam, Aomway.
How to get started with the hobby?
Find a mentor! This is cooperative hobby. Talk to your friends, perhaps some of them are already into flying hobby or something close to it, ask them if they would like to try to buy or build, and fly quadcopters. Also learn the difference between flying styles – freestyle, racing, line of sight (LOS). Go on the internet and read about it, then buy something small and give it a try! If you like it, you will grow. Also practice flying in drone flight simulators. Here are some good fly sims: FPV Freerider, Liftoff on Steam, DRL Drone Racing Simulator, more information here.
My adventure with quads started thanks to my fellow friend who brought me to the hobby. First by showcasing his fleet and then letting me fly his quads using his gear. Next I ordered my first fleet of indoor quadcopters:
| | |
| --- | --- |
| | Eachine H70 Super, awesome very stable indoor mini quad. Ideal for learning the basics. Can also be used outdoor, but in no wind conditions, and not too far away from the remote radio controller. |
| | Eachine E013 Mini FPV Indoor Quadcopter One of the most popular indoor all-in-one FPV Tiny Whoop style mini quads, equipped with small FPV camera. Can be purchased with or without FPV googles. |
| | Kingkong Fly Egg 130 / 136 mm FPV Quad Perfect size for beginners, lightweight, fast and nimble! Ideal for small areas, very flexible in terms of motors and different types of batteries, decent compact electronics. The latest version (KingKong 136mm) has meny improvements versus the older brothers. Highly recommended! |
What components is our quadcopter made of?
Here is a bill of material of the latest build I made. It is based on 150mm frame, hole mounting size: M3 30.5×30.5mm, which can be equipped with 3 inch propellers and FPV camera capable of broadcasting video feed to FPV googles and recording 1080p videos at 60 frames per second at the same time!
Realacc Purple 150mm Frame Kit (67g)

Frame. Can be made of light metal, plastic, 3D printed or even wood! The most popular materials are carbon fibre + aluminium. Pay attention to the weight! The lighter the better.

 

Brotherhobby Tornado T1 1407 3600KV Brushless 

Motors. Quadcopter requires 4 (+1 backup). You will crash, do yourself a favour and order one spare motor. Motors will get your qwad in the air. It is important to learn about various types and size standards (1407) and KV rate (3600).

Racerstar Labs 28A Dshot600 BLHeli_S.

ESC. Electronic Speed Controls are essential as they are responsible for distributing power to the motors. Pay attention to AMPs they can handle. ESCs can also be combined to all in one board. Pros: clean builds. Cons: You would have to replace whole board when one ESC fails. We need 4 (+1 backup, they tend to burnout).

Flight Controller. is the brain of the drone, it is a circuit board that has built-in sensors such as akcelerometr and gyroscope, that detects orientation changes. It also receives pilots commands via the receiver, and controls the motors. Our model has a VTX builtin which is responsible for broadcasting live video from FPV camera to googles. It also features On Screen Display (OSD), it overlays flight information onto your FPV video feed allowing pilot to monitor quadcopter's status in real-time while flying.

Receiver Frsky XM+.  (RX) is responsible for receiving pilots commands from the transmitter (TX) and passing it to the flight controller. There are multiple types, brands of RX: Flysky, DSMX/DSM2 & the most popular FrSKY. Some models also come with a telemetry – it sends monitoring metrics to the transmitter, which is very handy in case the flight controller doesn't feature an OSD.

Runcam Split WDR FPV Camera & HD Recorder.

Instead of having two separate cameras, one for HD recording and one for analog FPV video, RunCam has combined both functions into one system. And it works flawlessly. The downside is its large motherboard which has to be fitted into the frame. RunCam Split v2 is now available.

Gemfan Flash 3052 3-blade, 5mm Mounting hole.

Propellers take our quadcopter in the air! Important to know about their counterclockwise & clockwise rotation. The symbol (3052) indicates the following. First part is the size of the props in inches (the total prop diameter 3.0) the second part is the pitch of the prop blades: 5.2 means the prop would pull the craft forward 5.2 inches for each prop revolution. We need 2 pairs (+4 pairs as a backup).

LED with 5V Active Alarm Buzzer 

It's nice to connect a LED strip to our qwad so it is visible in the air. Some LED strips also comes with a buzzer which is very handy and helps finding our qwad in the grass. The buzzer also inform us about low battery voltage. Our FC has the buzzer build in though.

Turbowing 5.8G RHCP RP-SMA Male

Antenna is required to send the signal from the VTX to FPV googles. I use RP-SMA Male connector. Important: Never power on your qwad without the antenna attached to the VTX! It may damage the VTX!
To build a drone you would also need some decent soldering station (+heat gun which is very handy) and good solder wire (0.6-0.8mm). Do not forget to use a fan when soldering to blow the fumes away. For much intensive works you may consider a fume extractor. Also simple 8 in 1 Screwdriver Set and set of tweezers are very handy.
Additional essential equipment.
Building a quadcopter is one thing, but there is more to it. Wou need a decent equipment in order to steer our birds and enjoy the views! Most important gear is a remote radio controller, also called a transmitter, and next FPV googles. We also need some good quality Li-Po batteries which will provide enough flying time and power to do acrobatics. The flying time nowadays is one the most challenging topics – we can only fly up to 4-6 minutes, depending on batteries' capacity and weight, types of motors and props attached, as well as flying style and weather conditions. Here is some gear examples and alternatives.
To build this quadcopter, we had to make a few decisions. The main goal was to build a multipurpose quadcopter which is capable of flying freestyle, a bit of racing and recording HD videos without attaching an external HD camera. Because of the low profile of the frame, there was no room to mount something like All In One FPV Stack Tower System – it would simply not fit. So the first decision was to place 4 ESCs on the arms, next use the flight controller with builtin VTX, OSD and power distribution board (BDP) in order to limit number of boards to a minimum. That's due to the fact that RunCam Split HD FPV camera comes with its own board so we had to make a room for it. We ended up with 2 boards tower with the receiver on top of it.
Building 3″ quadcopter gallery
After all the effort and time spent on building my first drone I really enjoy to fly this quad! It's very stable, fast and nimble! Has plenty of power and decent flying time. The frame design makes it a tank, it is very tight but also very durable design.
That's all folks! Please leave the comment down below.
Cheers!!