Around The World Flight 8, Gibraltar to Algiers
Head across the Mediterranean Sea to North Africa and the exotic city of Algiers.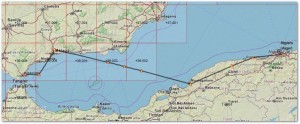 We depart from Gibraltar towards Spanish resort of Malaga. Shortly after Malaga, we turn towards the south for a hop across the Mediterranean Sea, leaving Europe behind and in a few short minutes making landfall on the African continent. The flight then continues alongside the northern edge of the Sahara Desert before finally arriving at the coastal city of Algiers.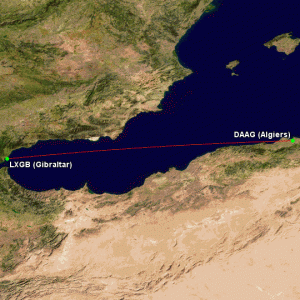 Algiers is the capital and largest city of Algeria. The airport is named after Houari Boumediene, a former president of Algeria.Dar El Beïda, the area at which the airport is located, was known as Maison Blanche (White House), and the airport is called Maison Blanche Airport in much of the literature about the Algerian War of Independence. The Société de Gestion des Services et Infrastructures Aéroportuaires (SGSIA), more commonly known as "Airport of Algiers", is a Public Company established on 1 November 2006 to manage and operate the airport.
Flight Information

LXGB – DAAG (IFR)

Departure

Gibraltar (LXGB)

Destination

Algiers (DAAG)



Aircraft

Airbus a320neo

Cruising altitude

FL110, 11000 ft.

3352.8m


Date & Time

July 3, 2015 15:30 Zulu

Waypoints & Distance

LXGB PIMOS MGA BOLKA GOLFO CARBO MOS DAHRA CHE DAAG

(450.7nm, 834.7km)

Flight Plan &  Scenery Tiles

FP_LXGB-DAAG (PDF)
Photo Gallery
Around the world leg 8 – journey progress: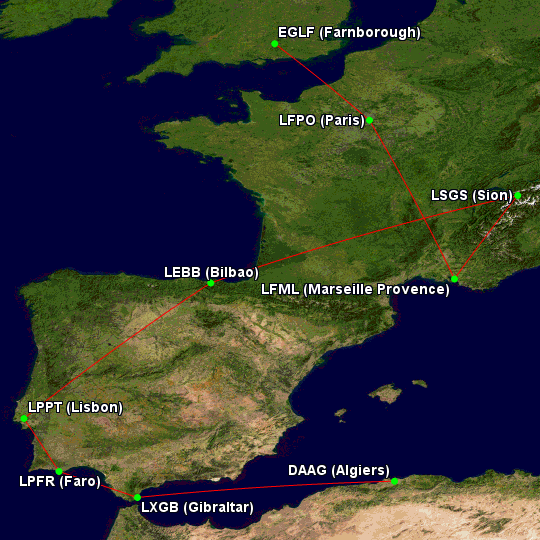 Next flight: Algiers to Palma >>>
Inspired by: First Class Simulations
By continuing to use the site, you agree to the use of cookies. more information
The cookie settings on this website are set to "allow cookies" to give you the best browsing experience possible. If you continue to use this website without changing your cookie settings or you click "Accept" below then you are consenting to this.