Around The World Flight 10, Palma to Cagliari Elmas
Head east across the islands of Mallorca and Minorca before reaching the picturesque island of Sardinia.

We fly from island to island as we leave Spain for the final time and head to the Italian island of Sardinia. The island of Sardinia has a size of approximately 24.090 square kilometers with a population of a shade under 2 million residents. In addition to being renowned as a waypoint on our circumnavigation the island is renowned for its friendly and hospitable people, the hot Mediterranean sun and its fine cuisine. Cagliari is an Italian municipality and the capital of the island of Sardinia, an autonomous region of Italy. Cagliari's Sardinian name Casteddu literally means castle. Cagliari is the 26th largest city in Italy and the largest city on the island of Sardinia.
Cagliari Elmas Airport (IATA: CAG, ICAO: LIEE) opened on the 3rd of May 1937 is an international airport located in the territory of Elmas, near Cagliari. The airport was upgraded in 2003 and the terminal was expanded and provided with 6 loading bridges for passenger boarding, with a capacity of 4 million passengers per year. In 2014, the airport handled 3,639,627 passengers.
Flight Information
Aircraft
Cessna Citation CJ4
Waypoints & Distance
LEPA SSJ BAHIA PTC MHN MORSS DORAD ALG LIEE
Flight Plan
FP_LEPA-LIEE (zip) (PlanG)
FP_LEPA-LIEE (pdf)
Photo Gallery (X-Plane 10)

Around The World – Leg 10
Distance traveled: 2725 nm, 5047 km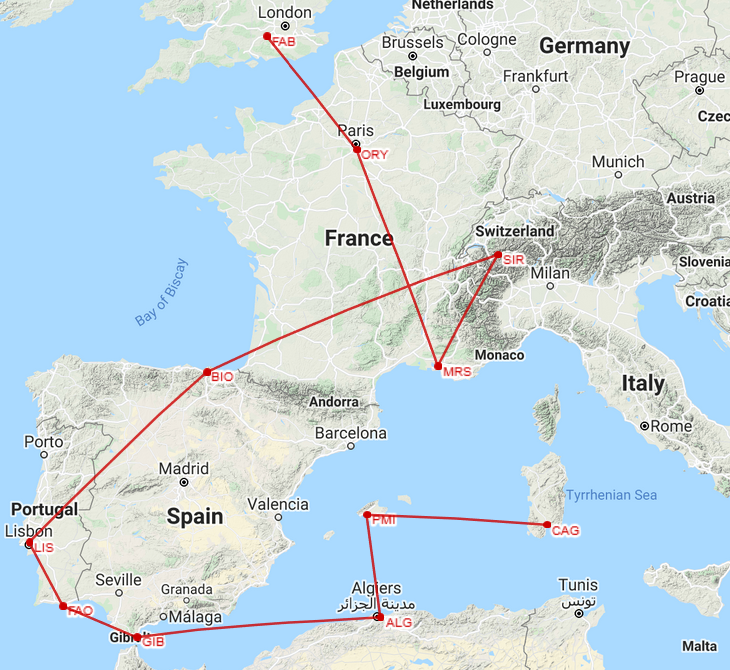 List of all flights
Around The World in 80 Flights
Next flight: Cagliari Elmas to Naples >>>
Inspired by: First Class Simulations