Around The World Flight 4, Sion to Bilbao
Traverse the Alps and fly abeam the Pyrennees in a dramatic flight as the Around The World trip reaches Spanish shores at Bilbao
 From the Alps we head west across France and into Spain to the coastal town of Bilbao.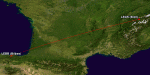 On departure from Sion climb rapidly, following the valley until you are above the adjacent peaks and then turn towards Bilbao. You should have plenty of room in the valley to gain altitude before making the final turn to the departure course. Sit back and watch the Alps unfold beneath the aircraft as one of nature's most breathtaking spectacles creates a stunning vista under your wings. Once clear of the Alps the remainder of the flight is plain and simple flying until reaching the Atlantic coast of Spain and a picturesque coastal arrival into the city of Bilbao.

Flight Information

LSGS to LEBB (IFR)

Departure

Sion (LSGS

)

Destination

Bilbao (LEBB

)

Aircraft

Epic E1000


Cruising altitude

18000 ft. (5486.4m)




Date & Time

June 29, 2015 08:25 CEST

Waypoints & Distance

LSGS LTP VNE TOU TBO BTZ 

LEBB (493nm, 913km)


Download

Flight Plan &

Scenery Tiles

FP_LSGS-LEBB (PDF)
 

Photo Gallery
Around The World flight 4 – Journey's Progress: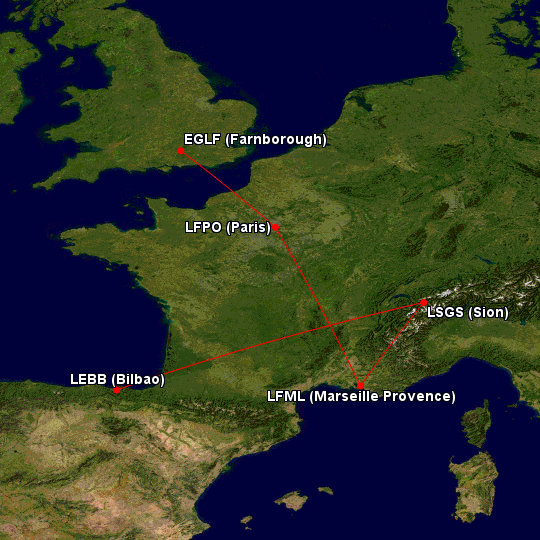 Next flight: Bilbao to Lisbon >>>
Inspired by: First Class Simulations
By continuing to use the site, you agree to the use of cookies. more information
The cookie settings on this website are set to "allow cookies" to give you the best browsing experience possible. If you continue to use this website without changing your cookie settings or you click "Accept" below then you are consenting to this.