Around The World Flight 14, Athens to Iraklion
We visit the historic island of Crete and the labyrinth of the Minotaur at Knossos!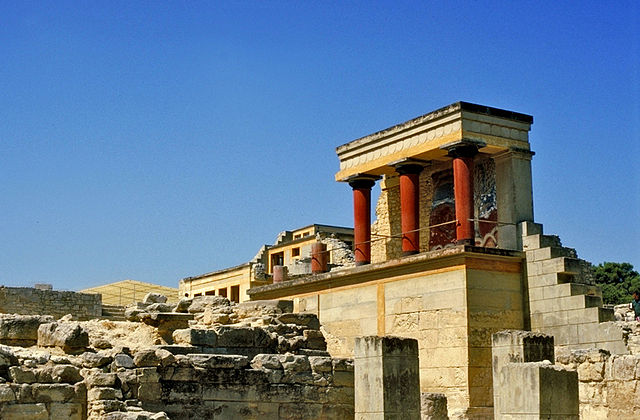 Close to the airport and the capital city of Iraklion is the labyrinth of Knossos, the seat of the Minoan Empire and where as mythology has it, Theseus slew the bull-headed Minotaur.
King Minos had waged war with the Athenians and was successful. He then demanded that, at nine-year intervals, seven Athenian boys and seven Athenian girls were to be sent to Crete to be devoured by the Minotaur, a half-man, half-bull monster that lived in the Labyrinth under the palace of Minos created by Daedalus. Theseus volunteered to slay the monster to stop this horror. He took the place of one of the youths and set off with a black sail, promising to his father, Aegeus, that if successful he would return with a white sail. Like the others, Theseus was stripped of his weapons when they sailed. On his arrival in Crete, Ariadne, King Minos' daughter, fell in love with Theseus and, on the advice of Daedalus, gave him a ball of thread, so he could find his way out of the Labyrinth.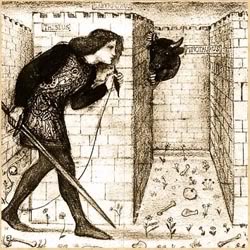 That night, Ariadne escorted Theseus to the Labyrinth, and Theseus promised that if he returned from the Labyrinth he would take Ariadne with him. As soon as Theseus entered the Labyrinth, he tied one end of the ball of string to the door post and brandished his sword which he had kept hidden from the guards inside his tunic. Theseus followed Daedalus' instructions given to Ariadne; go forwards, always down and never left or right. Theseus came to the heart of the Labyrinth and also upon the sleeping Minotaur. The beast awoke and a tremendous fight then occurred.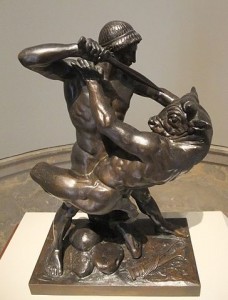 Theseus overpowered the Minotaur with his strength and stabbed the beast in the throat with his sword. After decapitating the beast, Theseus used the string to escape the Labyrinth and managed to escape with all of the young Athenians and Ariadne as well as her younger sister Phaedra. Then he and the rest of the crew fell asleep on the beach. Athena woke Theseus and told him to leave early that morning. Athena told Theseus to leave Ariadne and Phaedra on the beach. Stricken with distress, Theseus forgot to put up the white sails instead of the black ones, so the king committed suicide, in some versions throwing himself off a cliff and into the sea, thus causing this body of water to be named the Aegean. Dionysus later saw Ariadne crying out for Theseus and took pity on her and married her.
Heraklion International Airport, "Nikos Kazantzakis" (IATA: HER, ICAO: LGIR) is the primary airport on the island of Crete, Greece, and the country's second busiest airport after Athens International Airport. It is located about 5 km east of the main city center of Heraklion, near the municipality of Nea Alikarnassos. The airport is named after Heraklion native Nikos Kazantzakis, a Greek writer and philosopher. (source wikipedia)
Flight Information

LGAV – LGIR (IFR)

Departure

Athens  (LGAV)


Destination

Iraklion (LGIR)


Aircraft

Bombardier CRJ-200

Cruising altitude

FL110, 11000ft. 3352.8m

Date & Time

July 6, 2015 08:50 Zulu

Waypoints & Distance

LGAV  SPA KEA SOREV MIL LGIR

(169nm, 313km )

Flight Plan &  Scenery Tiles

FP_LGAV-LGIR (PDF)
Photo Gallery
Around The World – leg 14 journey progress: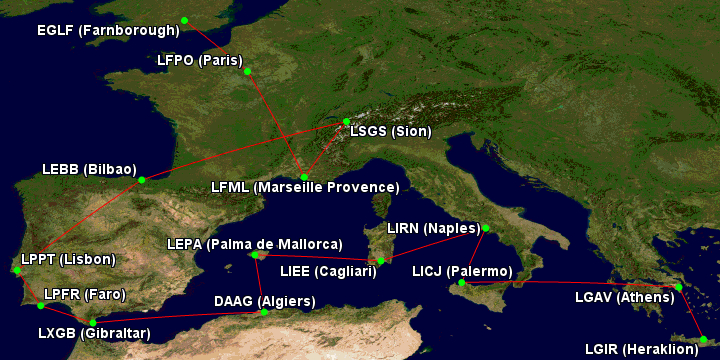 Next flight: Iraklion to Cairo >>>
Inspired by: First Class Simulations