Installing Oracle Linux 7 for Oracle software deployments
This demo shows installation process of Oracle Linux 7 in virtual machine (VirtualBox) and basic OS configuration for further Oracle software deployments e.g., Oracle Databases, WebLogic Servers.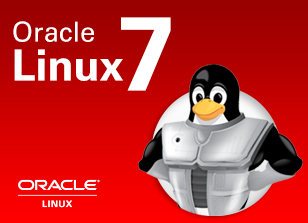 1. Download Oracle Linux ISO image from Oracle Software Delivery Cloud
2. Download and install VirtualBox software, create new virtual machine and mount Oracle Linux ISO image.
3. Boot the virtual machine and install Oracle Linux.
4. Set SELinux to permissive mode
If the OS is to be used for an Oracle installation, it is easier if Secure Linux (SELinux) is disabled or switched to permissive. To do this edit the /etc/selinux/config file, making sure the SELINUX flag is set as follows.
SELINUX=permissive
If SELinux is configured after installation, the server will need a reboot for the change to take effect.
5. Stop the firewall
[root@localhost ~]#
systemctl stop firewalld
systemctl disable firewalld
Removed symlink /etc/systemd/system/dbus-org.fedoraproject.FirewallD1.service.
Removed symlink /etc/systemd/system/basic.target.wants/firewalld.service.

6. Install oracle-rdbms-server-12cR1-preinstall and execute oracle-rdbms-server-12cR1-preinstall-verify
[root@demo ~]# yum install oracle-rdbms-server-12cR1-preinstall
...
[root@demo ~]# oracle-rdbms-server-12cR1-preinstall-verify
By installing oracle-rdbms-server-12cR1-preinstall package we automate the following:
installation of required software packages needed for database installation, with all dependencies
oracle account creation and groups: oinstall, dba
kernel parameters modification in /etc/sysctl.conf
settings for hard and soft shell resource limits in /etc/security/limits.conf
set of numa=off in the kernel boot parameters (for x86_64)
Let's take a look and verify oracle user account:
[root@demo ~]# id oracle
uid=54321(oracle) gid=54321(oinstall) groups=54321(oinstall),54322(dba)
Create additional groups and user account "grid"
[root@demo ~]# 
groupadd -g 54323 oper
groupadd -g 54324 grid
groupadd -g 54325 asmdba
groupadd -g 54326 asmoper
groupadd -g 54327 asmadmin

#user account grid (ASM admin and grid software owner)
[root@demo ~]# useradd -m -u 54322 -g oinstall -G asmadmin,asmdba,asmoper,dba -d /home/grid -s /bin/bash grid

Alter oracle account for Job Role Separation (JRS) environments (Doc ID 1177483.1)
[root@demo ~]# usermod -m -u 54321 -g oinstall -G asmdba,dba oracle
We run Virtual Machine. Let's set the x86 as the default boot kernel: